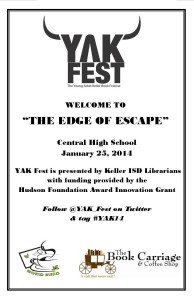 I've been to a lot of events in the past year, but I can honestly say that none of them compare to YAK Fest. From Neal Shusterman's keynote, to author Krissi Dallas leading everyone in the YAK Fest Dance (performed to the tune of YMCA), I could already tell this was going to be the event of the year. Where else can you dress up with teens and fellow authors and take crazy pictures in the photo booth? Here are some highlights from the day.
Authors were asked to answer the question 'What's your greatest fear?' My answer? Being forced to do algebraic equations.
The great Neal Shusterman! What an amazing keynote.
The Escape Hatch gave us the chance to connect with readers and have a little fun.
Even though I'm a published author, I still get butterflies around some of my peers. Mostly I just stare as my little debut heart pinches itself to make sure it's not dreaming. Shhhh, don't tell, but sometimes I still feel like an imposter. I wonder if that ever goes away.
A huge thank you to all of the authors, teens, and volunteers that worked so hard to organize this event. I loved every minute of it and hope I get to come back next year!