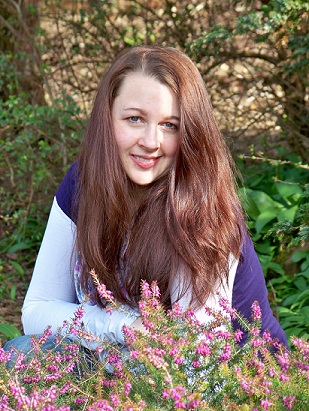 Heather L. Reid is both American and British and has called six different cities in three different countries, home. Her strong sense of wanderlust and craving for a new adventure mean you might find her wandering the moors of her beloved Scotland, exploring haunted castles, or hiking through a magical forest in search of fairies and sprites. When she's not venturing into the unknown in her real life, she loves getting lost in the worlds of video games or curling up by the fire with good story. For now, this native Texan is back in the Lone Star State, settling down with her Scottish husband and writing whatever new tales of fantasy her imagination dreams up.
Some of Heather's Favorite Authors:

Libba Bray,  Maggie Stiefvater, Robin LeFevers, Madeline L Engle, Ursula LeGuin, Dean Koontz, HP Lovecraft, Neil Gaiman, The Brontes, Jane Austen, George RR Martin, Robin Hobb, Ann Rice, VC Andrews, Douglas Adams, JK Rowling, Stephen King, Edgar Allan Poe, Phillipa Gregory, Therese Walsh, Jean M Auel, Anne McCaffrey, Victoria Schwab, Bruce Coville, Philip Pullman, Marry Shelly, Sharon Cameron. And that's only a few!
On Becoming a Writer:
My love of words started like most writers I know. It started with a story. In this case, the stories came from the imagination of my great-aunt, Delia. She weaved magical tales to send me to sleep. She wasn't a writer, she never wrote any of her stories on paper, and she read to me too, but I loved her stories best. Neither of us knew she was giving me the greatest gift of all, the gift of storytelling.
I've always loved books, spending countless hours in libraries and bookstores devouring stories. At the age of 11 I started my first novel. (No, you can't read it. It's buried in a deep dark hole somewhere in the Tasmanian Outback and guarded by a three-headed dingo.) I told my parents I wanted to be published by the age of sixteen. I also told them I wanted to be Wonder Woman, a Dallas Cowboy cheerleader, a Broadway star, and an archaeologist. Those dreams faded. I never did get that invisible jet, but the dream of being a writer stayed with me. After college I decided to stop dreaming and start doing. I joined the Society of Children's book Writers and Illustrators, joined a writer's group, read books on writing, went to conferences, workshops, and most importantly, I started writing every day. Some of it was crap. Ok, at first, a lot of it was crap, but writing takes work. After over 12 years of studying and writing, my first young adult novel, PRETTY DARK NOTHING, sold in a two book deal to Month 9 Books. My best advice? Never give up. It's been an amazing journey and I'm still learning. I write because I have to. It's a part of what makes me, me. Part of my defining uniqueness. What's your definition?