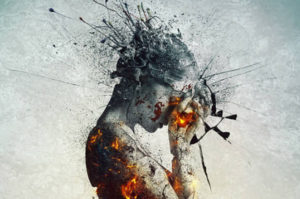 Yes, I am still alive, though by the dust gathering on this blog, you wouldn't know it. In truth, I've been lost, traveling the dark places, searching for a way out of the valleys of grief and loss, cutting my way through the dense forest of self-doubt, thirsting across the acrid hot desert of anger, and finally, weary of the journey, curling my broken spirit up beneath the heavy, crushing boulder of failure.
And there I've stayed, desperately trying to untangle the threads of my unraveling identity. To understand what it means to be a daughter without my mother, an author without a publisher, a writer without words?
Who was I? Who am I? Who will I be?
I've lost count of how many times I've attempted to write over the last three years, since mom died, since health problems, since my publisher imploded, since my hard-fought paper dreams, went up in hot, white, flames. I've failed, and although the fire of my loss has long burned out, I still lay, unmoving, amid a pile of ashes. Afraid, abject, ashamed. And I wonder… Should I quit? Give up and live the uncreative life? Would I be happier, more content? It's true, I have failed before, but never has it felt quite so personal, shameful, dirty.
As writers, we are asked to open our veins and bleed on the page, to pour our very being into our words in order to bring life to our characters. A ritual, a blood sacrifice, so that they can live and breathe and become real, true, alive. We spend years getting to know them, telling their stories, grieving with them, loving with them, journeying through hell and back together. And once we have breathed life and depth and truth into them, we are then commanded to let them go into the world and to not look back, but to forget and move forward. To pretend they were not really a part of us at all, only words, only stories, only a moment. And if those words, those stories, those moments die a thousand tiny little deaths out in the cruel world, we are to harden our hearts, shed no tears. There will be more stories, more words, more little deaths. As if it is that easy to separate the creation from the creator. No easier, I've found, than it is it to separate the child from her mother, so tightly wound together are their fates.
Who was I? Who am I? Who will I be?
I am not my mother, and yet I am. I am not my books, and yet I am. I am not my grief, my loss, my failure, and yet I am. These things do not define me, and yet they do. They are but single threads simultaneously unraveling and entwining in the making of a whole life, my life. Despite how I feel, or what has happened, I am still a daughter, a writer, an author. No matter how much I may want to, I cannot quit, to turn my back on the gifts bestowed upon me, on my purpose. I must persist. I must shed the heavy, jaded armor the industry has taught me to wear and once again bask, naked and unafraid, in the joy of storytelling.
This is the only way forward. This is the only way out of darkness. This is the only way back to myself. To who I was, who I am, and who I will be.
On a side note: I know some of you are waiting for the third and final book in The Pretty Dark series and I am sorry that I have not been able to deliver. For now, the first two books are out of print. You can read more about what happened here.
http://accrispin.blogspot.com/2016/07/month9books-scales-back-its-list-amid.html
http://www.yainterrobang.com/month9books/
I've been silent about the experience because I wasn't' sure what to say or how to say it. After a lot of heartache, the rights to my Pretty Dark series have finally been reverted to me. I know that Quinn and Aaron deserve to have their stories finished, but, for now, I cannot face that world, that story. Too much grief is tied up in their pages. That doesn't mean I'll never write the end of the series, I will. In the meantime, I want to  thank each and every one of you who have read the books, who have left reviews, hosted me on blog tours, supported me with words of encouragement, and who have taken Quinn and Aaron into your hearts. Know that I will do them justice, but, for now, I must look forward before I can look back. That means writing new worlds and characters that I hope you will love as much, if not more, than my first.